Tuesday March 24th 2009
---
Screenings of animated films are crap. If they're not full of kids, they're full of bored sarcastic media people (nothing like myself) who sit there making funny comments about how 'it's not exactly Les Quatre Cents Coups'.
Luckily, this was not the case at the screening for Coraline, where three things raised my excitement level beyond recommended allowances:
3d glasses, pepsi max and the film critic from blue peter is here.
6:27 PM Mar 16th from txt
I apologise for bringing Twitter into this, but it's really the only way to adequately convey my experience.
It was in Dolby 3D which is without a doubt the greatest 3D format on earth. It looked off the hoooooook, but annoyingly I couldn't nick the glasses cos they had a 'security tag' in them. I tried to take a picture of the warning but it didn't come out very well:
Ironically, it might be worth looking at that with your 3D glasses on.
The film is pretty solid too, and surprisingly scaryific, with a whole Buffalo Bill style buttons-sewn-into-eyes thing going on throughout. One musical number in particular ranks alongside the hands-down scariest moment ever seen in an animated film, by which I of course mean…
Fucking horrific.
P.S. If you're wondering where you've seen that girl before: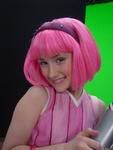 ---