Wednesday November 2nd 2011
---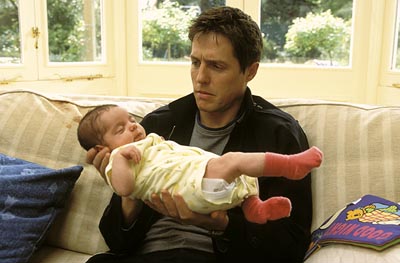 Trust Hugh Grant to go and have a SECRET BABY while we're all sitting around assuming he's not up to much. Us Weekly revealed yesterday that the actor (who's apparently 51 fucking years old!) 'welcomed a baby girl in early October' but, true to his anti-tabloid principles, decided not to let the papers in on it. What a playa.
They've also dug up an awesome 2007 Grantquote on the subject of parenthood:
"As much as I adore myself, I'm quite keen to find someone else to care about."
There's still no word on which lucky lady has been deemed sufficiently awesome to carry Grant's offspring, but personally I'm crossing my fingers for Greta Gerwig. Can you fucking imagine.
Anyway, Grant hasn't revealed the name of his daughter so I'm asking you to help me think of the perfect moniker for her. Be creative and I promise I'll find some sort of prize for the best one.
---